If you are a fan of polka music, you might have heard of Dana Records, a label that specialized in producing 78rpm records of Polish and Eastern European tunes. Dana Records was founded in 1945 by Walter Dana, a Polish-American entrepreneur who wanted to bring the joy of polka to the American market. Dana Records was not only a pioneer in polka music, but also a successful and innovative business that adapted to the changing tastes and technologies of the record industry.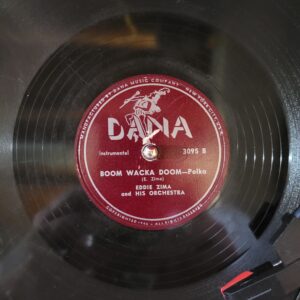 Dana Records started out by focusing on the polka genre, which was popular among Polish immigrants and their descendants in the US. Dana Records transformed the traditional polka sound by increasing the tempo and adding trumpet and saxophone sections to the original instrumentation of accordion, clarinet, and drums. This made the polka music more appealing to both ethnic and mainstream audiences, who enjoyed the upbeat and lively rhythms.
In 1948, Dana Records had a huge hit with Helen Polka, performed by Frank Wojnarowski and his orchestra. This song sold over a million copies and was picked up by major distributors, giving Dana Records financial stability and recognition. With this success, Dana Records expanded its catalog to include other genres, such as pop and Latin American music. Dana Records also acquired Syrena Records, a Polish label that had shipped its masters from Poland to avoid the war. This gave Dana Records access to a large collection of classical, folk, and jazz recordings from Poland.
Dana Records was one of the first labels to issue LP records in 1949, but it did not abandon its core product of 78rpm records. In fact, Dana Records had a stronger sales percentage of 78rpm records than the industry average. It was not until 1957 that sales of 45rpm discs equaled that of the 78s. Dana Records experimented with pressing the 78rpm discs in vinyl, like the 45s, but switched back to shellac because of dealers' demands.
Dana Records reached its peak in 1952, when it ranked third for income among all record labels, above giants like Capitol and Decca. It also signed several top bands to its roster, such as Gene Krupa and Xavier Cugat. In 1954, Walter Dana sold Dana Records to Jerry Blaine, who owned Jubilee and Josie Records. Dana remained president of the label for a while, but eventually quit due to overextension. Dana Records became a division of Fiesta Records, another label owned by Blaine.
Dana Records continued to produce polka music until the late 1980s, when it moved its offices to Miami Beach, Florida. It had some notable successes, such as Matka by Frank Wojnarowski, which sold a million copies in 1961 and was unusual for an ethnic record. Dana Records also used some unconventional marketing techniques, such as partnering with Manischewitz Wine Company and naming one of its songs Wine Polka.
Dana Records was a remarkable label that made a lasting impact on the polka scene and the record industry. It introduced millions of Americans to the joy of polka music and showcased the talent and diversity of Polish artists. It also adapted to the changing technologies and tastes of the market, while staying true to its roots. Dana Records is a testament to the vision and passion of Walter Dana and his team.